With the tunnel shells and bulkheads drilled and fit, it was time to consider the belly insulation and fire protection. The insulation is 1/16" Fiberfrax and the fire protection is .020 Titanium. I chose that because the FAA recognizes .016 Ti as acceptable for firewalls and .020 was available from McMaster at a reasonable price.
Most people who do this use stainless steel foil. KatieB used that foil, for example.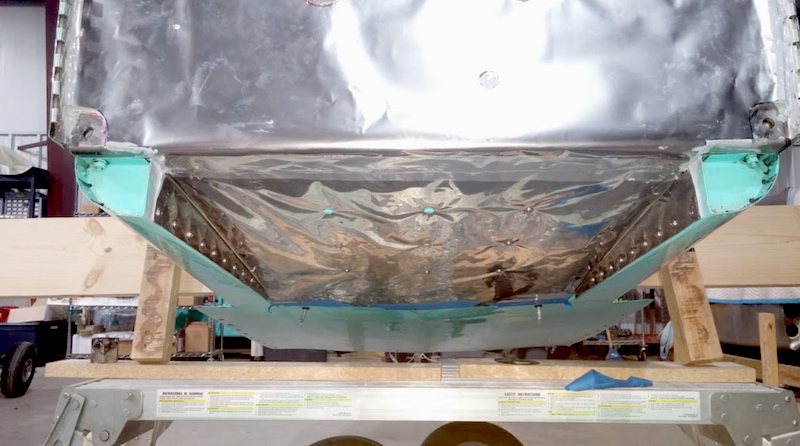 But I got to thinking that the protection is more than from heat; it's to guard against actual fire under the belly behind the engine hot air outlet. The belly is aluminum, .040 thick to be sure, but still aluminum. I decided that primary firewall protection should be added. Hence the .020 Titanium.
At one point, it looked as if the Fiberfrax and Titanium sandwich would both go between the tunnel shell inner flange and the belly skin, and made this test piece to see how much the Fiberfrax compresses after being riveted with LP4-3 rivets. The side view shows minimal compression.

When looked at in the right light at the right angle, though, some dimpling is visible in the simulated belly skin.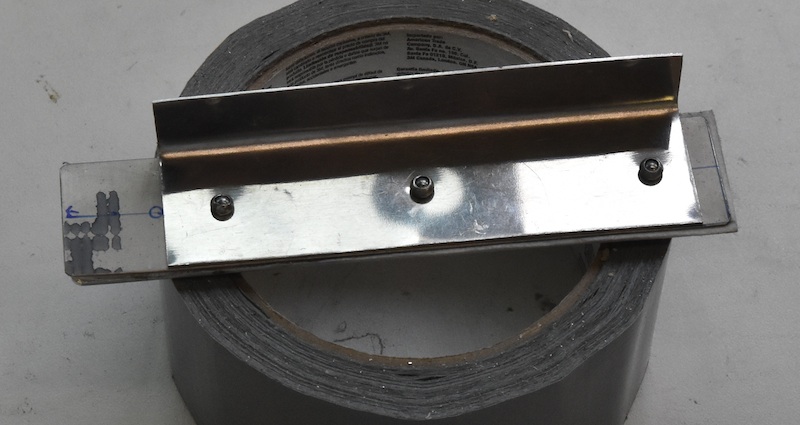 Later, I riveted an AN470AD4 rivet in one end and that seriously did compress the Fiberfrax.
Therefore: the Fiberfrax should not be part of the structural connection between the skin and the tunnel. I decided to stop the Fiberfrax by the inboard edge of the tunnel shell. This led to some rivets on the belly going through the Titanium and others not. It appeared easy to screw up (still does) so I made this guide.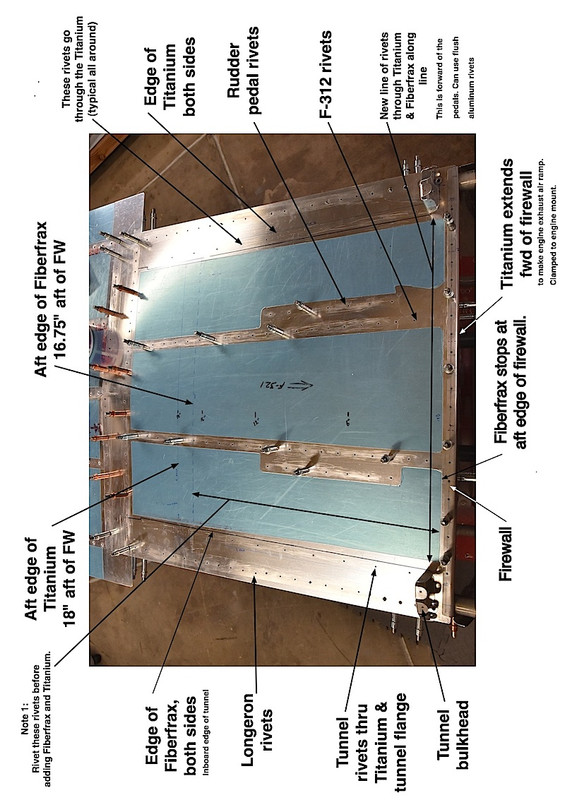 One issue is that with the Fiberfrax stopping at the inboard side of the tunnel shell, and the rudder pedals above the tunnel shells, what about insulation there? But I think that the tunnel shells themselves will give me some insulation, and if I add a bit of the Titanium to the inner wall, it'll be somewhat protected, for a short while anyway, against flame. With no Fiberfrax on the inner walls, heat on the Titanium can work through to the aluminum tunnel shell. No problem for normal flying but in a real fire situation, they could melt. Still, that'll give me some protection for a while.
The photos can also be found -
here,
here,
here
and
here.
Dave